Mechanical System Design Services
A quality system design is essential to the success of any project. Appropriate equipment selection and application leads to superior system performance and minimal expense. We utilize the latest system design techniques to ensure a properly designed system. Load calculations, equipment selection, zoning, and distribution system design are performed utilizing methodologies recommended by ASHRAE (American Society of Heating, Refrigerating, and Air-Conditioning Engineers), ACCA (Air Conditioning Contractors Association of America), IGSHPA (International Ground Source Heat Pump Association), and equipment manufacturers. Good design practices ensure you have a high performing, energy efficient system. We will work with you, your architect, and general contractor to ensure a properly designed mechanical system is incorporated into your next building project.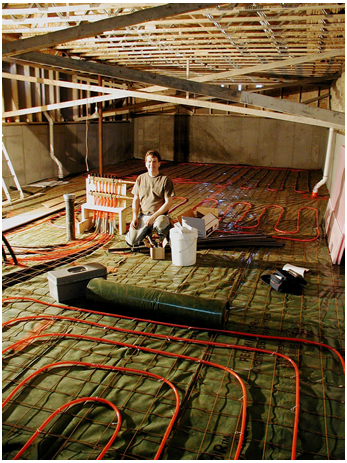 In Floor Radiant Heat Distribution System
This example shows radiant panels designed on a room by room basis for the basement level of a single family home. Panels are scientifically designed for optimal comfort based on each room's heat load.
Because we do design work in-house in coordination with your architect and can complete the actual installation work, you are assured of quality design and the best performance possible.